About Pepi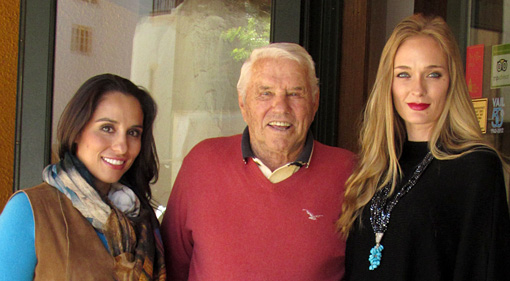 Pepi was born in Kufstein, Austria in 1932, where he began ski racing at the age of 10. In 1955, after many years of hard work he lived out his dream of being a member of the Austrian National Team (which he skied on for five years) along with becoming a certified ski instructor. In his free time Pepi helped coach Willy Jr., son of the German Olympian, co-founder and head of the fashion house of Bogner, Willy Bogner. In 1962 Pepi moved to Vail and he never left.
Pepi and his wife Sheika built a Vail Landmark in the heart of Vail Village, the Hotel Gasthof Gramshammer, Pepi's Bar and Restaurant, and Pepi Sports Ski Shop and Boutique. It is the only Vail Village business still owned by its builders. He designed a ski training program for recreational skiers called "Wedel Weeks", and was the racing coach and director of the Red Lodge Summer Ski Racing Camp in Montana for young aspiring racers. Over the years Pepi and Sheika were very active in promoting the sport of skiing. They hosted the Crystal Ball in Vail starting in 1981, which supported the US Ski Team, Handicapped Skiers Program, Jimmy Huega Express, Buddy Werner League, Ski Club Vail, and the Vail Valley Foundation. The Vail Valley Foundation organizes the World Alpine Ski Championships and the Birds of Prey World Cup Races.
Pepi was Vail's ambassador and was instrumental in bringing the FIS Alpine World Ski Championships to Vail in 1989, 1999 and 2015. Pepi was one of the founders of Vail, a ski legend, entrepreneur and friend to all! We lost Pepi in August 2019 and he will be greatly missed by all of us. Think of him when you are skiing "Pepi's Face" on Vail Mountain!