Pepi Sports and Boutique
Founded in 1967 by Austrian skiing legend, Pepi Gramshammer, Pepi Sports is a specialty retail operation located in the heart of Vail Village 100 feet down the street from the ski lifts on Vail mountain. Three floors include all the merchandise you need for your ski or summer vacation. Ski equipment, ski and bike rentals, repairs, men's and ladies skiwear and sportswear plus a third floor ladies boutique await your shopping experience. Pepi Sports is located across Vail's famous covered bridge on Bridge Street as you enter Vail Village.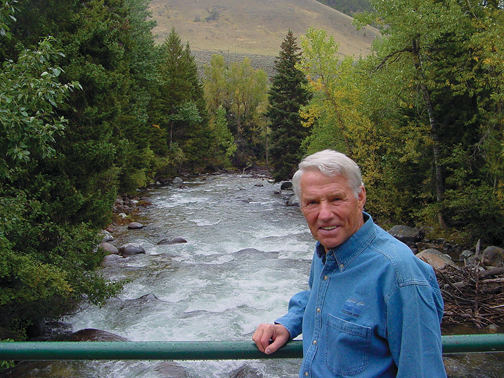 About Pepi
Pepi Sports was the brainstorm of legendary Austrian National team ski racer, Pepi Gramshammer. Pepi was the first international ski racer to call Vail, the fledging ski resort in the 1960's, home. Pepi and his wife, Sheika built Vail's landmark building, Hotel Gasthof Gramshammer, Pepi's Bar and Restaurant and in 1967 opened Pepi Sports. Pepi was a former coach of Willy Bogner, Jr, son of German Olympian, co-founder and head of fashion house, Bogner.
Pepi, an ambassador of Vail, was active in promoting the sport of skiing. Pepi started one of the nation's first summer ski training programs in Red Lodge, Montana where he was racing coach and director for many young aspiring racers. He designed a ski training program for recreational skiers called "Wedel Weeks" that is held every January in Vail. He was instrumental in bringing the FIS Alpine World Championships to Vail in 1989, 1999 and 2015. The Crystal Ski Ball (now Black Diamond Ball) supporting the US Ski Team, Handicapped Skiers Program, Jimmy Heuga Express, Buddy Werner League, Ski Club Vail and the Vail Valley Foundation was started by Pepi and Sheika in 1982.
We lost Pepi in August 2019 and he will be greatly missed by this close knit community of skiers. He was founder of Vail, a ski legend, an entrepreneur, and above all, a friend to the entire ski community. Think of Pepi when you ski "Pepi's Face" on Vail Mountain this year!
Sheika Gramshammer presently owns and operates Hotel Gasthof Gramshammer and Pepi Sports and Boutique.
Come visit us at the newly remodeled Pepi Sports Boutique in the heart of Vail Village.